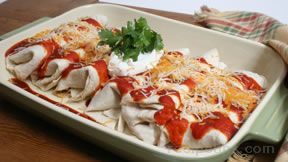 Directions
Preheat oven to 350° F.
In large skillet, over medium heat, brown beef, onion and garlic. Continue to stir while breaking up meat. Drain excess fat.
Add oregano, ground cumin, salt, pepper, and green chilies. Cook for approximately 6 minutes, stirring occasionally.
Add refried beans and 1/2 cup enchilada sauce. Simmer for an additional 5 minutes.
Place meat and bean mixture in the middle of tortilla. Sprinkle with cheese. Fold up the bottom of the tortilla, then the sides, then fold down the top. Place in a baking dish and cover with the remaining enchilada sauce and cheese.
Heat in oven 10 to 15 minutes or until cheese melts. Garnish as desired. Suggested garnishes: salsa, shredded cheese, diced green onions, black olives.
Prep Time: 20 minutes
Cook Time: 40 minutes
Container: large, heavy skillet
Servings: 6


Ingredients
-
1 pound lean ground beef
-
1/2 cup sweet onion, chopped
-
2 cloves garlic, minced
-
1/2 teaspoon ground oregano
-
2 teaspoons ground cumin
-
1/2 teaspoon salt
-
1/2 teaspoon freshly ground black pepper
-
4 ounces diced green chilies
-
16 ounces refried beans
-
10 ounces enchilada sauce
-
6 8
-
2 cups shredded cheese (sharp Cheddar and/or Monterey Jack)