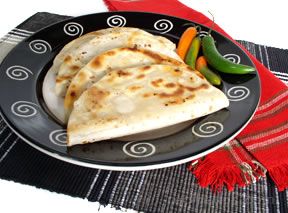 Directions
In a large, non-stick skillet, melt butter or spray with no-stick cooking oil.
Lay tortilla flat in the prepared skillet over medium high heat.
Place desired fillings to cover 1/2 of the flat tortilla. When cheese begins to melt, fold over the tortilla and continue to cook for an additional 1 to 2 minutes, or until slightly browned.
Remove from pan. The quesadilla can be cut into 3 triangles and garnished as desired.
Quesadillas, with filling, can be folded in half and placed in a 350º F oven until cheese has melted.
Filling suggestions: fresh mushrooms, corn, black beans, black olives, cooked and cubed meats.
Prep Time: 15 minutes
Cook Time: 15 minutes
Servings: 8


Ingredients
-
8 9-inch tortillas
-
2 cups shredded cheese (Monterey Jack and Cheddar cheese blend)
-
3 tablespoons green chilies, diced
-
1/2 cup green onion, diced
-
1 tablespoon butter, optional