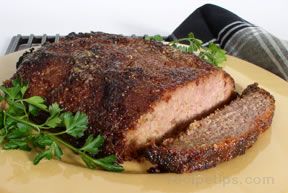 Directions
Preheat oven 350º F. Prepare 8" square pan with cooking spray.
In food processor, grind ham and pork sausage until crumbly. Place in large bowl.
Then, in food processor, grind the apple, onion, garlic, and oatmeal. Add to ham mixture.
Add remaining ham loaf ingredients and mix together with your hands. Shape into a loaf in prepared pan.
Place ham loaf in oven and bake for 1 1/2 hours or until meat thermometer reads 155º F.
Brown Sugar Glaze: In a small sauce pan, combine glaze ingredients. Simmer for 3-4 minutes. Baste ham loaf 2 to 3 times while baking. Serve ham loaf warm.
Prep Time: 15 minutes
Cook Time: 1.5 hours
Servings: 6


Ingredients
-
HAM LOAF:
-
1 pound cooked ham
-
1/2 pound pork sausage
-
1 large sweet onion
-
1 apple, cored
-
1/2 cup oatmeal
-
1/2 cup skim milk
-
2 eggs
-
1 clove garlic
-
1 teaspoon dry mustard
-
3 tablespoons brown sugar
-
1/4 teaspoon allspice
-
1/4 teaspoon nutmeg
-
1/4 teaspoon cloves
-
1/2 teaspoon paprika
-
1/2 teaspoon freshly ground black pepper
-
BROWN SUGAR GLAZE:
-
1/2 cup brown sugar
-
3 tablespoons water
-
1 teaspoon dry mustard
-
3 tablespoons cider vinegar