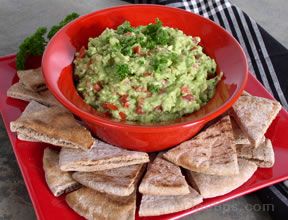 Directions
In a medium bowl, combine onion, garlic, chili powder (or fresh jalapeño pepper), and diced tomato.
With a sharp knife, cut avocados in half, removing the pit. Spoon out the flesh into above mixture. Use a fork to mash the avocado into mixture. Add lime juice, cilantro, and season with salt and pepper to taste.
Cover with plastic wrap, laying the plastic wrap directly on the guacamole to prevent discoloration. Refrigerate until serving time. (This only keeps a couple of hours before discoloring so prepare shortly before serving.)
Garnish with additional cilantro sprigs.
Prep Time: 15 minutes
Container: medium bowl


Ingredients
-
2 to 3 large avocados, ripened
-
2 tablespoons onions, minced or grated
-
1 clove garlic, minced or pressed
-
1 teaspoon chili powder (or minced jalapeño pepper)
-
1 large tomato, diced
-
1 tablespoon fresh lime juice
-
salt and pepper to taste
-
2 tablespoons cilantro leaves, chopped