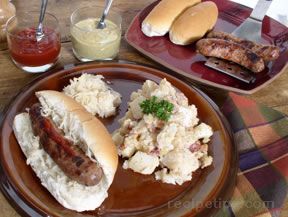 Directions
Preheat the grill; meanwhile, thinly slice the onion.
Combine the bratwurst and onion in a heavy skillet over medium heat. Cover the bratwurst and onion with beer and bring to a boil. Reduce heat and simmer about 10-12 minutes, turning bratwurst frequently. Add additional beer if needed. The onions should become soft and golden brown.
Cook the bratwurst on the grill over medium heat for 15 minutes or until browned, turning frequently. Use tongs for turning to prevent piercing the skin of the bratwurst.
If not serving immediately, return the bratwurst to the onion and beer mixture on the stove and simmer until ready to eat. Serve the onions with the bratwurst.
Container: heavy skillet and grill
Servings: 6


Ingredients
-
6 bratwurst, fresh
-
1 large onion
-
12 ounces can of beer (optional, can use water)