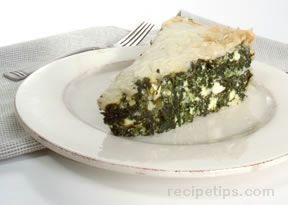 Directions
Preheat oven to 350º F. Lightly oil the inside of the pie dish.
Heat 2 tablespoons of olive oil in a large skillet over medium heat. Sauté onion and garlic until soft and golden brown. Stir in chopped spinach and parsley. Continue cooking for 3-5 minutes or until spinach is limp. Remove from heat and cool.
In a large bowl, mix eggs, ricotta cheese and feta cheese. Stir in spinach mixture and season as desired.
In prepared pie dish, layer 4 sheets of dough, brushing each layer with butter or oil (to prevent drying out, follow directions on phyllo dough package). Pour the spinach mixture on top of the dough. Repeat layers or phyllo dough. Tuck the overhanging dough into pie plate and crimp edges. Brush with melted butter.
Bake 40-45 minutes uncovered. Cut while hot and serve immediately.
Prep Time: 45 minutes
Cook Time: 45 minutes
Servings: 6
Serving Size: 1 piece


Ingredients
-
30 ounces fresh spinach (3-10 oz bags), wash, chop, and remove stems
-
2 tablespoons olive oil (or melted butter)
-
1 large onion, chopped
-
3 cloves garlic, minced
-
1/4 cup fresh parsley, chopped
-
3 large eggs, lightly beaten
-
3/4 cup ricotta cheese (or cottage cheese)
-
1 cup feta cheese, crumbled
-
salt & pepper to taste
-
8 ounces phyllo dough, thawed
-
1/4 cup melted butter or olive oil