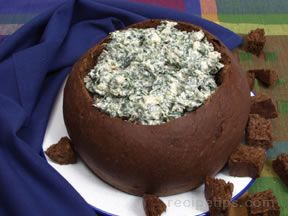 Directions
Thaw spinach and press with paper towel to drain excess water. Then, peel and mince onions.
In a medium bowl, combine all the dip ingredients. Cover and refrigerate several hours or overnight to allow flavors to blend.
Before serving, prepare bread by slicing off the top with a serrated knife. Remove the inside and slice into cubes to reserve for dipping. Spoon dip into hollowed bread. Crackers and vegetables can also be served with the spinach dip.
Prep Time: 30 minutes
Servings: 40
Serving Size: 1 tablespoon


Ingredients
-
10 ounces frozen spinach, thawed and drained
-
8 ounces water chestnuts, drained and chopped
-
1 envelope dry vegetable soup mix (without noodles)
-
1 cup mayonnaise
-
1 cup sour cream
-
3 green onions, minced
-
1 large round loaf of rye bread