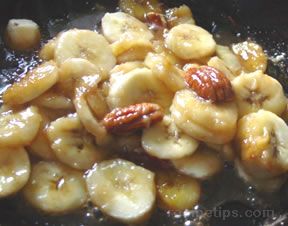 Directions
Have all of the ingredients handy before you begin the cooking process; then, in a skillet or sauté pan, melt the butter over low heat.
When the butter sizzles, add the brown sugar and stir to blend. Add the bananas and stir gently until the slices are coated with the glaze.
Finally, add the pecans and stir for 30 seconds.
Remove from the heat and serve immediately.
Note: This recipe works best with bananas that are ripe but not soft.
Prep Time: 15 minutes
Container: medium skillet


Ingredients
-
1 tablespoon brown sugar
-
1 tablespoon butter
-
1 tablespoon pecans, whole or chopped
-
1 banana, cut into 1/4" thick slices