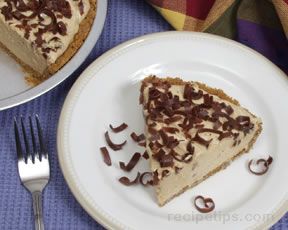 Directions
Preheat oven to 375° F.
Crust: Crush graham crackers into fine crumbs. Add sugar and melted butter or margarine to the cracker crumbs and mix well. Pour into a 9-inch pie plate and press crumbs to bottom and sides using the back of a spoon.
Bake in preheated oven for 8 minutes. Set aside to cool.
Filling: Combine cream cheese, powdered sugar, peanut butter and half & half, and beat until well blended. Fold in the whipped topping thoroughly. Pour filling into cooled crust.
Top the filling with shavings from the chocolate bar. Place the pie in the refrigerator for at least 6 hours before serving.
Prep Time: 45 minutes
Cook Time: 10 minutes
Container: 9
Servings: 6


Ingredients
-
CRUMB CRUST:
-
1 1/2 cups graham crackers (18 squares)
-
1/4 cup sugar
-
1/3 cup butter or margarine
-
FILLING:
-
8 ounces cream cheese
-
1 cup powdered sugar
-
1 cup peanut butter
-
1/4 cup half & half (or 3 1/2 tbsp. milk with 3/8 tsp. melted butter)
-
8 ounces whipped topping
-
1 milk chocolate candy bar