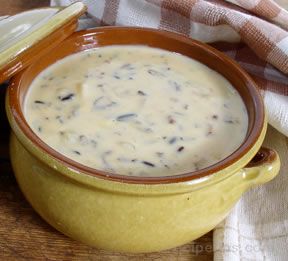 Directions
In a heavy skillet over medium heat, sauté bacon for 3-4 minutes or until slightly browned.
Add onions and sauté until onions are light brown in color and bacon is crisp. Remove onion and bacon and drain off excess bacon drippings. Set aside.
Prepare rice, instant or uncooked.
Add soup, milk, rice, cheese & bacon mixture. Simmer until cheese melts, approximately 10-12 minutes. If needed, thin with additional milk to appropriate consistency.
Prep Time: 30 minutes
Cook Time: 15 minutes
Servings: 6
Serving Size: 1 cup


Ingredients
-
3 slices bacon, cut in 1 inch pieces
-
4 tablespoons onion, minced
-
10 1/2 ounces can cream of potato soup
-
2 cups milk
-
8 ounces American cheese
-
1 cup wild rice, cooked according to pkg.