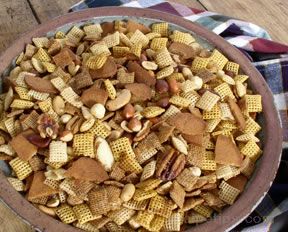 Directions
Preheat oven to 250º F.
Melt butter, add spices, and stir thoroughly.
Pour the butter mixture into the bottom of roasting pan. Add remaining ingredients. Stir until mixture is lightly coated with seasoned butter.
Place in oven for 1 hour. Stir every 15 minutes.
Remove from oven, cool and store in air tight containers.
Can be eaten immediately. Other favorite cereals can be added.
Prep Time: 15 minutes
Cook Time: 1 hour
Container: large roasting pan
Servings: 12
Serving Size: 1 cup


Ingredients
-
1/2 cup butter
-
2 tablespoons Worcestershire sauce
-
1/2 teaspoon celery salt
-
1/2 teaspoon garlic powder
-
1 teaspoon onion powder
-
3 cups rice chex
-
3 cups wheat chex
-
3 cups corn chex
-
1 1/2 cups mixed nuts
-
1 1/2 cups rye garlic rounds, broken in 3-4 pieces
-
1 cup mini pretzels (optional)
-
bagel chips (optional)