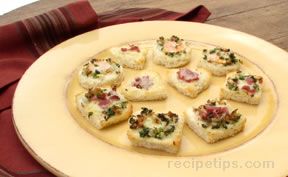 Directions
Preheat oven to 375º F.
Cut squares or decorative shapes, about 2" in size, from the bread of your choice. Brush both sides of the cut out bread with extra virgin olive oil and place on ungreased baking sheet. Bake 5 to 6 minutes, turn, and bake an additional 5 minutes or until golden brown.
Garnish: Garnish as desired. Examples: diced meats, shredded cheeses, seafood, olives, green onions, fresh herbs (parsley, cilantro, chives, and basil), sautéed or fresh mushrooms. Can use prepared pesto as first layer.
Prep Time: 15 minutes
Cook Time: 15 minutes
Servings: 8
Serving Size: 2 pieces


Ingredients
-
12 slices firm bread of your choice
-
3 tablespoons extra virgin olive oil
-
EXAMPLE OF OPTIONAL TOPPINGS:
-
shredded cheese
-
seafood
-
sliced olives
-
green onions
-
fresh herbs
-
pesto
-
diced meats