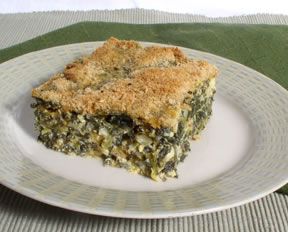 Directions
Preheat oven to 350º F.
Place prepared spinach in a medium bowl. Add flour, melted margarine, salt, and pepper.
In a separate bowl, beat eggs. Add cottage cheese and shredded cheese and then mix well. Add spinach mixture and mix well.
Pour into prepared pan and sprinkle with bread crumbs.
Bake for 1 hour.
Remove from oven and allow soufflé to rest for 10 minutes before cutting.
Recipe can easily be divided in half.
Prep Time: 30 minutes
Cook Time: 1 hour
Container: 9x13" baking pan, spray with non-stick cooking spray
Servings: 12
Serving Size: 1 piece


Ingredients
-
4 packages frozen chopped spinach, thawed and drained
-
1/4 cup flour
-
1/4 cup melted margarine
-
1 teaspoon salt
-
1/2 teaspoon black pepper
-
6 large eggs, beaten
-
24 ounces cottage cheese
-
12 ounces extra sharp cheddar cheese, shredded
-
bread crumbs