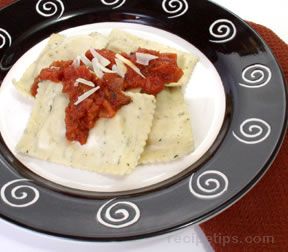 Directions
Separate ravioli before cooking. If using frozen ravioli, thaw slightly to separate.
In a large sauce pan, bring water to a full boil, and then reduce heat to medium (while cooking the ravioli, heat the marinara sauce in another pan). Add the fresh or slightly frozen ravioli. Cook 4-5 minutes for fresh ravioli (6-7 minutes for partially frozen), stirring occasionally. Do not allow the water to come to a full boil or the ravioli will fall apart.
Drain.
Top ravioli with a small amount of sauce, and if desired, garnish with your favorite shredded or crumbled cheese.
Serve immediately.
Prep Time: 15 minutes
Cook Time: 15 minutes
Servings: 4
Serving Size: 1 cup


Ingredients
-
4 cups fresh ravioli (or frozen)
-
8 ounces prepared marinara sauce
-
2 ounces cheese of your choice (fresh Parmesan, Feta, Swiss, etc)