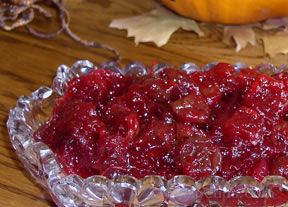 Directions
In a medium sauce pan over medium heat, combine the granulated sugar and water. Stir until the sugar completely dissolves; then bring to a boil.
Add the fresh cranberries, dried cherries, brown sugar, grated fresh ginger root, orange zest, and ground cinnamon. Mix well.
Lower the heat and simmer until thickened.
Remove from the heat, allow the sauce to cool, and then refrigerate.
The sauce can be refrigerated for approximately 1 week. It can also be frozen for long-term storage.
Prep Time: 15 minutes
Cook Time: 15 minutes
Container: 1 medium sauce pan


Ingredients
-
1/2 cup water
-
1/2 cup granulated sugar
-
1 cup fresh cranberries
-
1/2 cup dried cherries
-
1 tablespoon cider vinegar
-
1 tablespoon brown sugar
-
2 teaspoons fresh ginger root, finely grated
-
1/2 teaspoon ground cinnamon
-
1 1/2 teaspoons fresh orange zest, grated