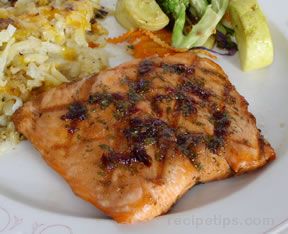 Directions
Brush the gas or charcoal grill grates with oil to prevent salmon from sticking.
Place rack approximately 4" from heat source and preheat the grill (the fire should be very hot).
Rub a thin coat of oil on the salmon to prevent sticking.
Grill salmon, flesh side down, for 5 minutes. At this point you can choose to turn the salmon over or cover with foil. Grill for 2 to 3 additional minutes.
To check for doneness, cut into the center with a sharp knife. If salmon appears flakey, it is done. Serve immediately.
Prep Time: 15 minutes
Cook Time: 15 minutes
Servings: 4


Ingredients
-
2 pounds salmon fillets
-
or
-
4 salmon steaks, 1/4 lb. to 1/3 lb. each
-
1 1/2 tablespoons olive oil, extra virgin
-
salt and freshly ground pepper to taste
-
1 lemon, wedged for garnish