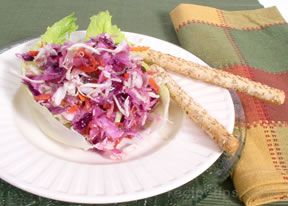 Directions
In a large bowl, combine shredded cabbage, grated carrots, diced green pepper, and onion.
In a sauce pan, combine sugar, cider vinegar, oil, and celery.
Over medium heat, bring dressing mixture to a boil and continue to boil for 2 minutes. While dressing mixture is still hot, pour over cabbage mixture.
Cover and refrigerate overnight (a minimum of 8 hours). Cabbage salad will keep in the refrigerator for up to 1 week.
Prep Time: 15 minutes
Cook Time: 15 minutes
Container: large bowl
Servings: 6
Serving Size: 1 cup


Ingredients
-
salt and pepper to taste
-
CABBAGE MIXTURE:
-
1 head green cabbage, shredded
-
1 head red cabbage, shredded
-
3 carrots, grated
-
1 green pepper, diced
-
1 onion, finely diced
-
DRESSING:
-
1 1/2 cups sugar
-
3/4 cup cider vinegar
-
3/4 cup vegetable oil
-
1 teaspoon celery seed