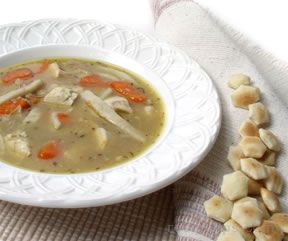 Directions
In a large sauce pan, add 4 cups of chicken stock (homemade or prepared), carrots, celery, fresh parsley, and egg noodles.
Bring to a full boil and reduce heat to medium. Cover and cook for approximately 20 minutes or until vegetables are tender.
Season to taste with salt and pepper. May add cooked chicken that was reserved from chicken stock, if desired.
Prep Time: 15 minutes
Cook Time: 30 minutes
Container: large heavy sauce pan
Servings: 4
Serving Size: 1 cup


Ingredients
-
4 cups chicken stock
-
2 carrots, peeled and chopped
-
1 stalk of celery, chopped
-
2 teaspoons fresh parsley, chopped
-
1 1/2 cups egg noodles
-
salt to taste
-
pepper to taste