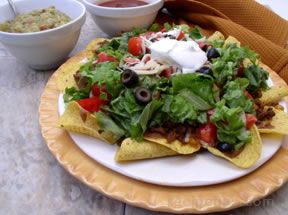 Directions
In a heavy skillet, brown ground beef and onions.
Arrange nacho chips on platter. Cover with Monterey Jack and sharp Cheddar cheese; then place in microwave until cheese is slightly melted.
Spread refried beans onto slightly melted cheese. Cover refried beans with browned ground beef.
Place in the microwave and heat thoroughly (approximately 1 minute).
Garnish with lettuce, tomatoes, olives, and green onion.
Optional: top with sour cream, serve with salsa and quacamole.
Prep Time: 15 minutes
Cook Time: 15 minutes
Servings: 4


Ingredients
-
1 bag nacho chips
-
1 cup sharp Cheddar cheese, shredded
-
1 cup Monterey Jack cheese, shredded
-
16 ounces can-refried beans
-
1 pound lean ground beef
-
1 large onion, chopped
-
4 green onions, sliced
-
3 ripe tomatoes, diced
-
4 ounces black olives, sliced
-
1 bunch Romain lettuce, torn into bite size pieces
-
OPTIONAL:
-
Sour cream
-
Guacamole
-
Salsa