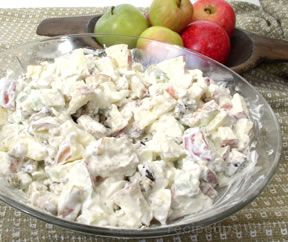 Directions
In a large bowl, place prepared apples and sprinkle with lemon juice to prevent browning. Add celery, raisins, and nuts.
In a separate bowl, combine sugar, mayonnaise, salt, and whipped topping. Blend with apple mixture.
Cover and refrigerate before serving. This salad can be prepared the night before. Cranberries can be substituted for the raisins.
Prep Time: 15 minutes
Container: large salad bowl
Servings: 8


Ingredients
-
4 large, sweet apples, cored and chopped (do not peel)
-
2 cups celery, diced
-
1 cup walnuts, chopped
-
3/4 cup raisins
-
1 teaspoon lemon juice
-
2 tablespoons sugar
-
1/3 cup mayonnaise
-
1/4 teaspoon salt
-
1 1/2 cups whipped topping