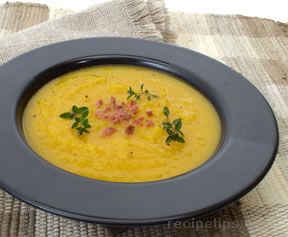 Directions
In stock pot, heat butter and olive oil. Add onions and curry powder. Sauté, uncovered, 10-15 minutes or until onions are tender. Stir frequently.
Add prepared squash and apples to sautéed onion mixture. Season with salt and pepper.
Add 2 cups of water. Bring mixture to a boil. Reduce heat, cover, and cook over low heat 40-45 minutes or until apples and squash are soft.
Purée mixture in blender or food processor. Return to stock pot. Add apple cider, or apple juice, and water until desired consistency is obtained. Soup should be somewhat thick with a sweet flavor. Can be served hot or cold. Optional: garnish with bacon bits and thyme.
Prep Time: 30 minutes
Cook Time: 45 minutes
Container: large stock pot
Servings: 8
Serving Size: 1 cup


Ingredients
-
1 tablespoon butter or margarine
-
1 tablespoon olive oil
-
3 large, sweet yellow onions, chopped
-
2 teaspoons curry powder (adjust to taste)
-
5 pounds to 6 pounds, butternut squash (peeled, seeded, and chunked)
-
4 large, sweet apples (peeled, cored, and chunked)
-
2 teaspoons salt
-
1/2 teaspoon black pepper, coarsely ground
-
2 cups to 3 cups, apple cider or apple juice
-
OPTIONAL:
-
bacon bits
-
fresh thyme sprigs