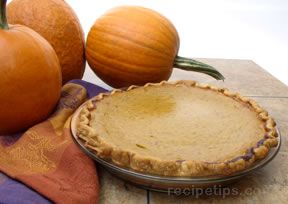 Directions
Preheat oven to 425 degrees.
Line pie pan with 9" pie crust.
Combine filling ingredients and beat well. Pour into pastry lined pan.
Bake 45-55 minutes, or until knife inserted near edge of pie pulls out clean. The center of pie will appear soft, but will set while cooling.
Serve cold or warm. Optional: serve with a dollup of whipped topping.
Prep Time: 15 minutes
Cook Time: 1 hour
Container: 9" pie pan
Servings: 8
Serving Size: 1 piece


Ingredients
-
1 9" refrigerated pie crust
-
FILLING:
-
2 cups pumpkin (canned or cooked & mashed)
-
1/2 teaspoon salt
-
1 1/2 cups milk
-
3 eggs
-
3/4 cup granulated sugar
-
1 1/4 teaspoons cinnamon
-
1/2 teaspoon ground ginger
-
1/8 teaspoon freshly ground nutmeg (or 1/2 teaspoon regular nutmeg)
-
1/2 teaspoon vanilla extract
-
OPTIONAL:
-
whipped topping