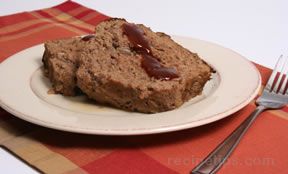 Directions
Preheat oven to 350 degrees.
Grease bottom and sides of loaf pan.
In medium sized bowl, soak bread (torn into ½" to 1" pieces) in milk. Stir in egg and seasonings. Add meat and onion to bread mixture, mix, and form into a loaf; place in prepared pan.
Bake 1½ hours.
Prep Time: 15 minutes
Cook Time: 1.5 hours
Container: loaf pan
Servings: 6
Serving Size: 1 piece


Ingredients
-
1 1/2 pounds extra lean ground beef
-
1/2 onion, chopped
-
1 cup milk
-
3 slices bread, torn into ½" to 1" pieces
-
1 egg
-
1 tablespoon ketchup
-
1 teaspoon Worcestershire sauce
-
1 tablespoon horseradish
-
2 teaspoons Italian seasonings (adjust to taste)