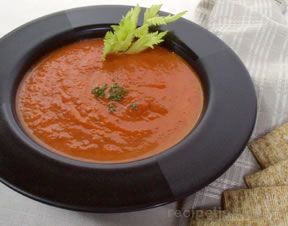 Directions
Melt butter in large sauce pan. Over medium heat, sauté onion and garlic until softened. Add canned tomatoes, chopped fresh tomatoes, broth, and seasonings.
Bring to a boil, reduce heat, cover and cook 35-40 minutes.
Remove from heat and puree. Then, reheat on low. Add milk and season to taste.
Prep Time: 20 minutes
Cook Time: 1 hour
Container: large sauce pan
Servings: 4
Serving Size: 1 cup


Ingredients
-
2 tablespoons butter
-
2 onions, chopped
-
1 clove garlic, minced
-
15 ounces canned whole tomatoes
-
4 fresh tomatoes, peeled and finely chopped
-
salt and pepper to taste
-
2 cups chicken broth
-
2 tablespoons fresh basil, chopped
-
1 1/2 cups milk (whole) or cream