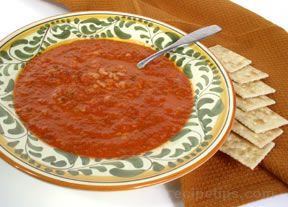 Directions
In a large sauce pan, cook rice according to package directions. Set cooked rice aside.
In a large sauce pan, melt butter and sauté onion and garlic for 7 minutes. Add fresh and canned tomatoes, chicken broth, and seasonings. Bring to a full boil, reduce heat and cook partially covered for 30 minutes.
Purée. Return purée to sauce pan and heat. Add cooked rice and simmer for 10-15 minutes.
Garnish with croutons and serve.
Prep Time: 10 minutes
Cook Time: 1 hour
Container: large sauce pan
Servings: 4
Serving Size: 1 cup


Ingredients
-
1 onion, chopped
-
1 clove garlic, minced
-
2 tablespoons butter
-
6 fresh tomatoes, large, peeled
-
15 ounces canned tomatoes in juice
-
2 cups chicken broth
-
salt and pepper to taste
-
1/2 teaspoon thyme
-
1/2 teaspoon marjoram
-
1 cup white rice
-
croutons, optional garnish