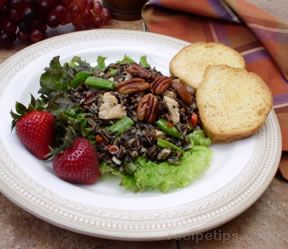 Directions
Following package directions, cook wild rice in chicken stock and salt. Drain rice, and while still warm, toss with 2 tablespoons lemon juice. Let cool.
Combine prepared chicken breasts, sliced green onions, diced red and green peppers, and cut pea pods with cooled wild rice.
Prepare dressing by combining minced garlic, mustard, salt, pepper, vinegar, and oil until well blended. Pour over rice and chicken mixture.
Cover and refrigerate for 2-4 hours before serving. Serve on lettuce leaves and garnish each serving with toasted nuts.
Prep Time: 30 minutes
Cook Time: 1 hour
Servings: 10
Serving Size: 1 cup


Ingredients
-
1 1/4 cups wild rice
-
3 3/4 cups chicken broth
-
1/2 teaspoon salt
-
2 tablespoons fresh lemon juice
-
2 chicken breasts, cooked and cubed
-
4 green onions, sliced (including tops)
-
1/2 cup red pepper, diced
-
1/2 cup green pepper, diced
-
4 ounces fresh pea pods, cut into 4 pieces
-
1 cup nuts, toasted
-
DRESSING:
-
2 cloves garlic, minced
-
1 tablespoon spicy brown mustard
-
1/2 teaspoon salt
-
1/2 teaspoon granulated sugar
-
1/2 teaspoon black pepper, freshly ground
-
1/4 cup red wine vinegar
-
2/3 cup oil
-
lettuce leaves, optional garnish