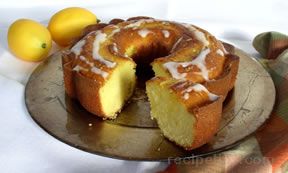 Directions
Preheat the oven to 350ºF.
Lightly grease and flour a bundt pan.
In a large bowl, combine the cake mix, instant pudding mix, oil, water, and eggs. Beat for 2 minutes with an electric mixer.
Pour the batter into the prepared bundt pan and bake for 45 to 55 minutes. Check for doneness by inserting a knife into the cake. If the knife is clean when removed, the cake is done.
While the cake is baking, prepare the glaze. Mix the powdered sugar with 1 tablespoon of lemon juice until smooth. Add additional lemon juice and/or powdered sugar until the desired consistency is achieved.
Remove the cake from oven; then remove the cake from the bundt pan by inverting the pan onto a serving plate.
Poke several holes in the cake while it is still warm and pour the glaze into the holes. (Reserve some of the glaze to drizzle on the top of the cake.)
Allow the cake to cool before serving.
Prep Time: 15 minutes
Cook Time: 1 hour
Container: Bundt pan, large mixing bowl
Servings: 12
Serving Size: 1 piece


Ingredients
-
CAKE:
-
18 1/4 ounces lemon cake mix
-
3 2/5 ounces instant lemon pudding mix
-
1/2 cup oil
-
4 eggs
-
1 cup water
-
GLAZE:
-
1/2 cup powdered sugar
-
1 tablespoon lemon juice (You may need additional lemon juice to achieve the desired consistency.)