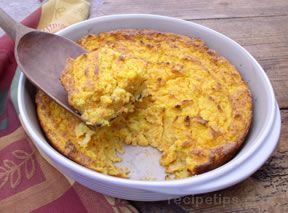 Directions
Preheat oven to 400°F.
COOK SQUASH: Cut squash lengthwise and remove seeds. In a lightly greased casserole dish, place squash flesh side down and bake at 400º F for 45 minutes, or until tender. Cool slightly, remove squash from skin and purée.
Cook carrots and purée. Lower oven temperature to 375º F.
SPOON BREAD: In a 3 quart saucepan, sauté onions in 1 tablespoon of butter until translucent. Add water, 1/2 cup milk, and rosemary. Bring onion mixture to a boil. Whisk in cornmeal. Cook, stirring constantly, for an additional 1 minute. Remove from heat.
To create the batter, combine the cornmeal mixture, puréed vegetables, remaining 1/2 cup of milk, egg yolks, 2 tablespoons butter, salt, cayenne, and cumin in pan.
Beat egg whites in a separate bowl until stiff peaks form. Fold into batter. Place in greased 2 quart casserole.
Bake at 375º F for 45-50 minutes, or until set. The center should be soft; do not overbake. Spoon bread is served hot, as a side dish, using a spoon.
Prep Time: 2 hours
Cook Time: 1 hour
Container: 2 quart casserole
Servings: 8


Ingredients
-
2 cups cooked butternut squash, puréed
-
1 cup cooked carrots, puréed
-
1 tablespoon butter
-
1/2 cup onion, chopped
-
1 cup water
-
1/2 cup skim milk
-
1 teaspoon fresh rosemary, minced
-
3/4 cup yellow cornmeal
-
1/2 cup skim milk
-
3 egg yolks
-
3 egg whites
-
2 tablespoons butter
-
2 teaspoons salt
-
1/8 teaspoon cayenne pepper
-
1/8 teaspoon cumin