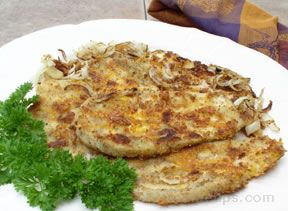 Directions
Peel eggplant and cut into 3/8" to 1/2" thick slices. Sprinkle salt on each side of slices and let drain for 20 minutes. Pat dry before using.
Coat eggplant slices with beaten egg, and dip in seasoned bread crumbs.
Heat oil in a large skillet. Add the sliced eggplant and sauté until lightly browned on both sides.
Remove and drain on paper towel. Season to taste with salt & pepper. May add grated cheese to the bread crumbs.
Prep Time: 15 minutes
Cook Time: 15 minutes
Container: large skillet
Servings: 4
Serving Size: 2 pieces


Ingredients
-
2 pounds eggplant
-
oil
-
1 egg
-
3/4 cup bread crumbs (seasoned)
-
salt & pepper to taste