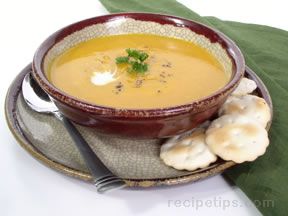 Directions
Peel, seed, and cube pumpkin into 1" cubes.
In sauce pan, melt butter. Add onion, carrot, pumpkin, and garlic. Cook for 10 minutes or until onion softens. Season with salt and freshly ground black pepper.
Add broth. Bring to a boil and reduce heat. Partially cover and cook approximately 40 minutes or until pumpkin is soft.
Pureé the soup in a blender or food processor. Return mixture to pan and reheat on low.
Stir in cream and continue to heat on low for an additional 1 minute. Garnish and serve.
Prep Time: 15 minutes
Cook Time: 45 minutes
Servings: 4
Serving Size: 1 cup


Ingredients
-
2 pounds fresh pumpkin or 3 cups canned pumpkin
-
1 large onion, diced
-
3 cloves garlic, minced
-
1 carrot, diced
-
2 tablespoons butter
-
salt and pepper to taste
-
4 cups chicken or vegetable broth
-
1 cup cream or milk