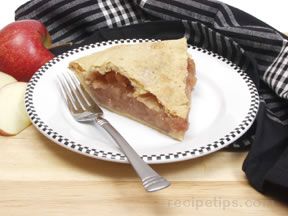 Directions
Preheat oven to 425°F.
Peel, core, and slice apples into 1/2" to 3/4" thick slices and place in a large bowl. Mix sugar, cinnamon, nutmeg, and cornstarch together and sprinkle over the apples.
Place 1 crust in bottom of pie tin so that it overlaps the edges of pie tin. Pour sliced apples mixture on crust.
Dot apple mixture with butter (see TIP). Cover apples with remaining crust. Crimp the top crust to the bottom crust. Cut approximately 6 slits in top crust.
To prevent the crimped crust from overbrowning, cover crimped edges with aluminum foil. Place pie pan on baking sheet and place in oven. Bake 50-60 minutes or until crust is golden in color and apples are soft.
Serve warm or cold with your favorite topping.
TIP: An easy way to dot with butter is to grate cold butter on a cheese grater and sprinkle grated butter over pie filling.
Prep Time: 15 minutes
Cook Time: 1 hour
Servings: 8
Serving Size: 1 piece


Ingredients
-
3 pounds apples (or 6 cups sliced apples)
-
2/3 cup sugar, granulated
-
1 teaspoon cinnamon
-
1/4 teaspoon nutmeg - ground (may use freshly grated nutmeg)
-
1 1/2 tablespoons cornstarch
-
15 ounces 9
-
1 tablespoon butter - unsalted