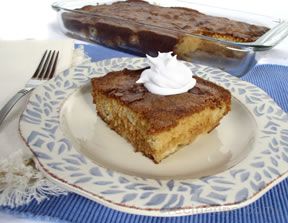 Directions
Preheat oven to 350°F.
In a large bowl, mix brown sugar and margarine (butter) with an electric mixer until well blended. Add egg, vanilla, salt, buttermilk, soda, and flour. Beat until above ingredients are blended. Stir 1 1/3 cups of finely chopped rhubarb into batter.
Pour batter into a lightly greased cake pan. Sprinkle with cinnamon and sugar.
Bake at 350ºF for 35 minutes. Remove from oven & cool. Serve with a dollup of whipped cream, if desired.
Prep Time: 15 minutes
Cook Time: 45 minutes
Container: 9"x13" baking pan
Servings: 16
Serving Size: 1 piece


Ingredients
-
1 1/2 cups brown sugar, firmly packed
-
1/2 cup margarine (butter)
-
1 egg
-
1 cup buttermilk
-
1 teaspoon baking soda
-
2 cups flour
-
1 1/3 cups fresh rhubarb, finely chopped
-
1 tablespoon sugar
-
1 teaspoon cinnamon