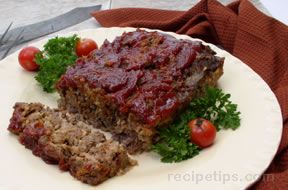 Directions
Preheat oven to 350°F.
Lightly grease a 9"x5" loaf pan. In a large bowl, combine ground beef, egg, oatmeal, chopped onion, and seasonings. Form mixture into a loaf and place in the prepared pan. Cover top of uncooked meat loaf with ketchup mixture.
Bake 1½ hours. Remove from oven, slice, and serve.
Prep Time: 15 minutes
Cook Time: 1.5 hours
Container: 9" x 5" loaf baking pan
Servings: 6


Ingredients
-
MEAT LOAF:
-
1 1/2 pounds ground beef
-
1 egg, beaten
-
1/2 cup oatmeal
-
1 onion, chopped
-
1 teaspoon salt
-
1/2 teaspoon black pepper
-
KETCHUP TOPPING:
-
1/2 cup ketchup
-
3 tablespoons brown sugar
-
1 1/2 tablespoons prepared mustard