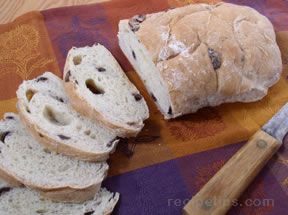 Directions
Mix 1 package dry yeast in 1/4 cup warm water, and let sit for 10 minutes in a small container.
Move the yeast water to a large bowl, add 1 cups warm water and 3 cups bread flour, and beat approximately 100x by hand or 1-2 minutes with mixer on low speed. Add 1 1/4 teaspoons coarse salt (1 teaspoons, if using table salt), and Greek Kalamata olives (chopped).
Turn out on floured surface and knead the mixture for 10 minutes, or until dough is smooth and elastic, adding more flour as needed. Place in lightly oiled bowl, and let rise in refrigerator for 24 hours.
Shape the dough into a loaf. Place it on a greased baking sheet that has been sprinkled with corn meal.
Let rise in a warm place for 2 hours.
Bake at 450 degrees F for 35-45 minutes. Mist with water 2 to 3 times during the first 10 minutes of baking. Remove from oven and let cool on a wire rack.
Prep Time: 6 or more hours
Cook Time: 45 minutes


Ingredients
-
2 1/4 teaspoons dry active yeast, quick rise (1 package)
-
1/4 cup warm water
-
1 cup warm water
-
3 cups to 3 1/2 cups bread flour
-
1 1/4 teaspoons coarse salt (or 1 teaspoons table salt)
-
1 cup Greek olives, chopped
-
Corn Meal