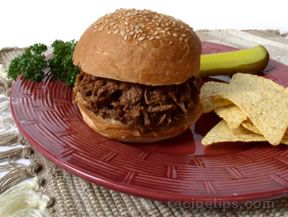 Directions
Preheat oven to 275 degrees F. (Quantities in this recipe may be adjusted according to the numbers served.)
On the stove top over medium high heat, add 1 tablespoon of oil to the roasting pan and brown both sides of the roast. Remove from heat when roast is browned, and add onions, garlic, seasonings and enough water to give you up to 1/2 inch of water in the roaster.
Place in oven; cover pan and bake for 2 hours. When the meat separates easily with a fork, shred the meat. You may need to remove some of the water after shredding the meat. Reserve that amount which may be used later in the cooking process.
Add at least 18 oz. of barbecue sauce and return to the oven, covered. Continue baking for at least 1 to 1 1/2 hours.
Add additional reserved water if the meat mixture appears too thick or dry. (The time it takes to cook this is worth the end results. An electric roaster or crock pot can also be used instead of baking in the oven.) This also freezes well.
Serve on a bun.
Prep Time: 30 minutes
Cook Time: 4 hours
Container: Roasting pan or slow cooker
Servings: 10
Serving Size: cup


Ingredients
-
5 pounds beef roast, chuck, round or sirloin can be used
-
1 tablespoon cooking oil, for browning
-
2 medium onions, sliced
-
3 cloves fresh garlic, sliced
-
1/2 teaspoon ground black pepper
-
salt to taste
-
water - 1/2 inch in bottom of roaster
-
18 ounces BBQ sauce, flavor of your choice