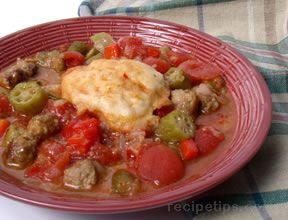 Directions
In a medium saucepan over medium heat, cook sausage for about 5 minutes. Add onion, garlic, and sweet pepper, cook an additional 5 minutes or until sausage is cooked through. Drain off excess fat.
Add chicken broth, gumbo file and okra and cook an additional 10 minutes until bubbly.
While the gumbo is cooking, mix together baking mix, milk and spices. Drop biscuit dough by spoonful into the hot gumbo. Over low heat, cook uncovered for 10 minutes. Then cover the saucepan and cook another 10 minutes over low heat. Ladle into bowls and serve hot.
Prep Time: 15 minutes
Cook Time: 45 minutes
Container: Medium saucepan
Servings: 4


Ingredients
-
1 pound spicy pork sausage
-
1 medium onion, chopped
-
2 cloves garlic, diced
-
28 ounces tomatoes, diced
-
28 ounces chicken broth
-
1 1/2 cups frozen okra, cut into small pieces
-
1/2 teaspoon file powder
-
1 cup all-purpose baking mix
-
1/3 cup milk
-
1/4 teaspoon cayenne pepper