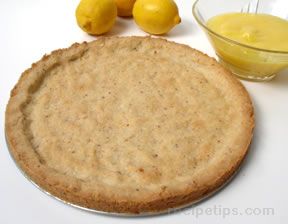 Directions
Preheat oven to 350°F. Spray the pan with a vegetable spray. (Use regular pie pan or a tart pan with a removable bottom.)
Sift together flour, salt and confectioners sugar into a small bowl. Blend in the ground walnuts and then beat in the cooled melted margarine/butter and vanilla extract until all combines and forms a thick dough.
Press the dough into the tart/pie pan with your fingers until it is evenly distributed on the bottom and sides of pan.
Place the pan in preheated oven and bake for 15-20 minutes or until lightly browned.
Remove from oven, place on a wire rack to cool. Fill with a filling of your choice.
Prep Time: 15 minutes
Cook Time: 30 minutes
Container: 9" tart pan
Servings: 8
Serving Size: 1 piece


Ingredients
-
1 cup all-purpose flour
-
1/4 teaspoon salt
-
1/4 cup confectioners sugar
-
1/2 cup ground walnuts
-
1/2 cup butter or margarine, melted and cooled
-
1/2 teaspoon vanilla extract