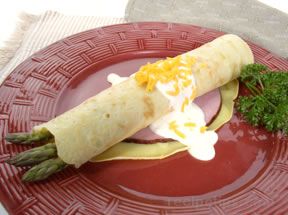 Directions
Slice 12 pieces of ham.
Wash and trim 12-14 stalks of tender aspargus and lay them in a microwave dish with 2 tablespoons of water and 1 teaspoon of salt. Cover the dish and microwave on high for 3-4 minutes or until the thick end of the stalk can be pierced with a knife. Drain.
Combine the flour, salt and milk in a medium bowl, beating until smooth. Blend or beat in the eggs and the cooled, melted butter. If there is enough time, let this mixture set in the refrigerator for about 1 hour.
Place the crêpe pan over medium heat and add 1/2 teaspoon of oil in bottom of heated pan. Pour 1-2 tablespoons of batter in bottom of pan and distribute it evenly over bottom to create a very thin layer. Pour out the excess. Adjust amount of batter if necessary. The batter cooks very quickly (usually less than a minute) so it needs to be watched closely. Flip crêpe and cook on opposite side for about 15 seconds or just until it's light brown. (Cooking too long on either side will make the crêpe too crisp to roll.)
Repeat the process, adding a small amount of oil each time, if not using a non stick pan, and adjusting the heat and amount of batter to obtain the desired thickness of crêpes. Stack crêpes on a plate until finished.
To fill the crêpe, place one thin slice of ham and 2 stalks of asparagus on 1/3 of the crêpe and roll the crêpe up.
Place the filled crêpe in a shallow 9X13" baking dish and reheat in the oven at 400 degrees for 10 minutes before serving. Top with the sauce or dressing of your choice.
Prep Time: 45 minutes
Container: A 10" skillet with shallow sides or a crêpe pan, and a 9X13" baking dish
Servings: 6
Serving Size: each


Ingredients
-
12 pieces ham, sliced thin
-
12 pieces fresh asparagus, trimmed and cooked
-
1 1/4 cups flour, all purpose
-
1 pinch salt
-
3 eggs, medium
-
1 1/2 cups milk
-
2 tablespoons butter, melted, cooled