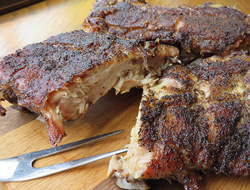 Directions
Mix first 6 ingredients together. Rub on both sides of ribs. Let sit for 30 minutes.
Place ribs on a rack in the bottom of the roasting pan; add about 1/4 inch of water to the pan.
Cover tightly with foil and bake in the oven at 300° F. for 2 to 2 1/2 hours or until tender.
Remove from the oven and finish on the grill. Grill on medium for a few minutes on each side to lightly char the surface.
Prep Time: 10 minutes
Cook Time: 2 hours
Container: Roasting pan with roasting rack


Ingredients
-
4 teaspoons garlic salt
-
2 teaspoons salt
-
2 teaspoons pepper
-
1 teaspoon cumin
-
1 teaspoon paprika
-
1 teaspoon onion salt
-
1 package ribs (full rack)