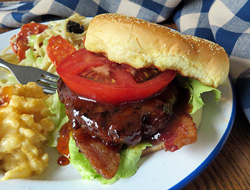 Directions
Combine all the sauce ingredients in a saucepan. Cook until the sauce begins to boil.
Once it begins to boil, remove it from the heat. Set aside 1 cup to serve along with the burgers.
In a large bowl, combine 1/4 cup of barbecue sauce with the egg, oats, onion salt, garlic salt, pepper and salt. Add the ground beef and mix all together until evenly mixed. Shape ground beef into 6 patties.
Grill over medium heat for 6 or 7 minutes. Turn and cook for 2 minutes and baste with remaining barbecue sauce. Cook for another 5 minutes, basting one more time. Grill burgers to desired doneness.
Serve with the reserved barbecue sauce and everyone's favorite burger toppings.
Prep Time: 20 minutes
Cook Time: 15 minutes
Servings: 6


Ingredients
-
SAUCE:
-
1 cup ketchup
-
1/2 cup brown sugar
-
1/3 cup sugar
-
1/4 cup honey
-
1/4 cup molasses
-
2 teaspoons prepared mustard
-
1 1/2 teaspoons Worcestershire Sauce
-
1/4 salt
-
1/4 teaspoon liquid smoke
-
1/8 teaspoon pepper
-
BURGERS:
-
1 egg
-
1/3 cup quick-cooking oatmeal
-
1/4 teaspoon onion salt
-
1/4 teaspoon garlic salt
-
1/4 teaspoon pepper
-
1/8 teaspoon salt
-
1 1/2 pounds ground beef
-
6 hamburger buns, toasted