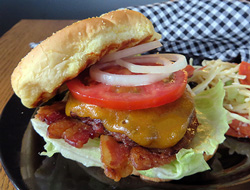 Directions
In a large bowl, combine dried minced onion, ketchup, garlic, sugar, Worcestershire, steak sauce and cider vinegar.
Crumble beef over mixture and mix well. Shape into 8 patties.
Grill burgers, covered, over medium heat or broil 3 inches from the heat for 4-7 minutes on each side or until juices run clear.
Top with a slice of cheese and grill 1 minute longer or until cheese is melted.
Serve on buns with bacon and favorite burger toppings.
Prep Time: 15 minutes
Cook Time: 15 minutes
Servings: 8


Ingredients
-
2 tablespoons minced onion
-
4 tablespoons ketchup
-
2 cloves garlic, minced
-
2 teaspoons sugar
-
2 teaspoons Worcestershire sauce
-
2 teaspoons steak sauce
-
1/2 teaspoon cider vinegar
-
2 pounds ground beef
-
8 hamburger buns, toasted
-
8 slices bacon, cooked (cook more if you like extra bacon)
-
8 slices cheddar cheese
-
toppings: lettuce, tomato, onion