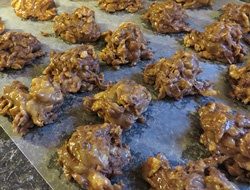 Directions
In a saucepan on the stovetop, cook the syrup, sugar, vanilla, and salt on medium heat until boiling; stir frequently.
Turn down the heat and simmer for 2 minutes.
Turn off the heat and add the peanut butter; stir until the peanut butter is melted into the mixture.
Add the Special K cereal and mix well.
Add the chocolate chips and quickly stir into the mixture. They will begin to melt but they don't have to melt completely, just need to be mixed in evenly.
Scoop out the cookie mixture and drop onto wax paper; allow to cool.
Prep Time: 15 minutes
Cook Time: 10 minutes
Container: Saucepan for cooking


Ingredients
-
1 cup white corn syrup
-
1 cup sugar
-
1 teaspoon vanilla
-
1/4 teaspoon salt
-
1 1/3 cups creamy peanut butter
-
4 cups Special K cereal
-
3/4 cup chocolate chips