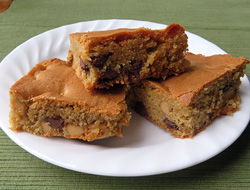 Directions
Preheat the oven to 350° F. Grease the bottom and sides of a 9 x 13 baking pan.
Cream together the butter, peanut butter, sugar, and brown sugar in a large mixing bowl. Beat in the eggs one at a time; beat well after each.
Add the flour, baking powder, salt, and vanilla; beat until well mixed.
Stir in the peanut butter and chocolate chips; pour into the prepared baking pan.
Bake in the preheated oven for 45 minutes or until a toothpick poked in the middle comes out clean.
Cool and cut into bars.
Prep Time: 20 minutes
Cook Time: 45 minutes
Servings: 24


Ingredients
-
2/3 cup butter, softened
-
2/3 cup peanut butter
-
1 cup sugar
-
1 cup brown sugar
-
4 eggs
-
2 cups flour
-
2 teaspoons baking powder
-
1/2 teaspoon salt
-
2 teaspoons vanilla
-
1 cup peanut butter chips
-
1 cup chocolate chips