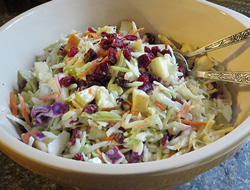 Directions
Combine the cabbage slaw, broccoli slaw, apples, and dried cranberries in a large bowl; toss to combine evenly.
Add 1/2 jar of coleslaw dressing and stir until everything is evenly coated. If the coleslaw is too dry add more dressing, a little at a time, until coated as desired.
Refrigerate until ready to serve.
Prep Time: 15 minutes
Servings: 12


Ingredients
-
1 package coleslaw mix
-
1 package broccoli slaw mix
-
1 apple - medium, cut into small bite size pieces
-
1/2 cup dried cranberries (more if desired)
-
1 jar Jimmy's coleslaw dressing, 15 oz. (or your own favorite brand)