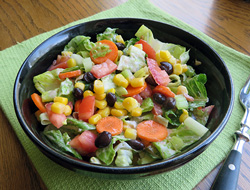 Directions
Tear Romaine into bite size pieces and place in a large bowl.
Add the corn, black beans, tomatoes, celery, and carrots to the lettuce; toss to mix ingredients together.
Combine the salsa, sour cream, and ranch dressing; stir together until well mixed.
Just before serving, pour enough dressing over the salad to coat the lettuce to your taste. Use only as much as is required to coat the dressing the way you like it. You may not need to use all of it.
Serve immediately.
Prep Time: 25 minutes
Container: Large bowl
Servings: 8


Ingredients
-
8 cups torn romaine (approximately 1 heart)
-
1 cup frozen corn, thawed
-
2/3 cup black beans, rinsed and drained
-
1 tomato (large), chopped
-
1 celery rib, chopped
-
1 carrots, sliced thin
-
DRESSING:
-
2/3 cup salsa
-
4 tablespoons sour cream
-
4 tablespoons ranch dressing