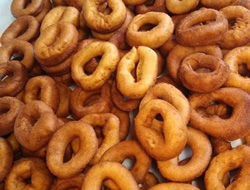 Directions
Beat eggs until light; add sugar and beat until fluffy.
Mix in buttermilk, melted butter, and vanilla.
In a separate bowl, combine the flour, nutmeg, baking soda, baking powder, and salt.
Blend dry ingredients into the egg and buttermilk mixture.
Preheat the Crisco or oil to 375° F. in a skillet on the stovetop or in an electric skillet. Be sure there is enough oil in the pan to allow the donuts to float while frying them.
Fill drop donut maker with dough and start dropping donuts into the preheated oil.
Fry until the donuts are browned on one side and then turn over; fry until browned on second side.
Remove from the oil and place on paper towels to cool.
When cooled, store in an air-tight container.
Prep Time: 30 minutes
Cook Time: 90 minutes
Servings: 120


Ingredients
-
6 eggs
-
2 1/2 cups sugar
-
3 cups buttermilk
-
6 tablespoons butter, melted
-
1/2 teaspoon vanilla
-
7 cups flour
-
1 teaspoon nutmeg
-
2 teaspoons baking soda
-
2 teaspoons baking powder
-
1/2 teaspoon salt
-
Butter-flavored Crisco or canola oil