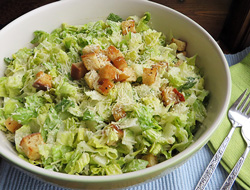 Directions
DRESSING:
Combine the garlic, mayonnaise, anchovies, Worcestershire sauce, mustard, lemon juice and 2 tablespoons of the Parmesan cheese.
Season to taste with salt and black pepper. Refrigerate until ready to use.
CROUTONS:
Preheat oven to 400° F.
On a large baking sheet, place bread cubes. Drizzle with melted butter. Add remaining minced garlic and season with salt and pepper. Stir to coat bread cubes evenly. Bake until golden brown, 10-12 minutes, stirring frequently.
When ready to serve, place lettuce in a large bowl; toss with the dressing and remaining Parmesan cheese. Add the croutons, toss lightly, and serve.
Prep Time: 20 minutes
Cook Time: 10 minutes
Servings: 6


Ingredients
-
DRESSING:
-
3 cloves garlic - minced
-
3/4 cup mayonnaise
-
3 anchovy filets - minced
-
1 teaspoon Worcestershire sauce
-
1 teaspoon Dijon mustard
-
1 tablespoon lemon juice
-
3 tablespoons parmesan cheese
-
salt and pepper
-
CROUTONS:
-
4 cups sour dough bread - cubed
-
1/4 cup butter - melted
-
3 cloves garlic - minced
-
salt and pepper
-
6 cups romaine lettuce - torn into bite-sized pieces
-
3 tablespoons parmesan cheese