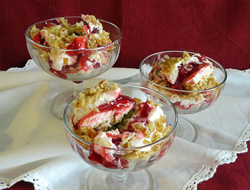 Directions
Mix the pretzel, sugar and melted butter together; reserve 1/2 cup of mixture and set aside.
Pour into a 9 x 13 baking dish. Press evenly into the bottom.
Place the cream cheese and powdered sugar in a mixing bowl; beat until smooth. Fold in the whipped cream.
Spread half over the pretzel crust. Spread the pie filling over the cream cheese and then spread the other half of cream cheese over the pie filling.
Sprinkle the reserved pretzels over the top of the dessert. Cover and refrigerate for 4 hours or overnight.
Prep Time: 30 minutes
Container: 9 x 13 baking dish
Servings: 15


Ingredients
-
2 cups crushed pretzels
-
3/4 cup sugar
-
3/4 cup butter, melted
-
8 ounces cream cheese, softened
-
1 cup powdered sugar
-
8 ounces frozen whipped topping, thawed
-
1 can cherry pie filling, 21 oz. can