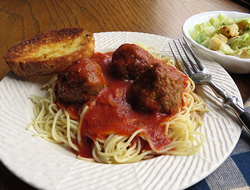 Directions
Mix the ground beef, eggs, crackers, onion salt, salt, and pepper. Mix until all ingredients are evenly distributed.
Take a large spoonful of the ground beef mixture and roll into a ball. Place the meatballs in the bottom of a Dutch oven or stock pot; brown until they are no longer pink in the middle.
Remove the meatballs from the pan and set aside. Drain the grease from the pan and then put back on the burner; add about a half inch of the tomato juice to the pan and cook to loosen the browned bits from the bottom of the pan. Once the browned bits are all loosened, add the remaining tomato juice.
Add the tomato soup, onion, sugar, butter, onion salt, garlic salt, and salt. Stir and cook until mixture is simmering.
Add the meatballs back in the sauce and allow everything to simmer for 15 to 20 minutes.
Cook the vermicelli while the sauce and meatballs are simmering.
When the vermicelli is done cooking, drain the water and serve it topped with the sauce and meatballs.
Prep Time: 45 minutes
Cook Time: 45 minutes
Container: Stock pot or dutch oven


Ingredients
-
MEATBALLS:
-
2 pounds ground beef
-
2 eggs
-
14 saltine cracker squares
-
1 teaspoon onion salt
-
1/2 teaspoon salt
-
1/2 teaspoon pepper
-
SAUCE:
-
1 can tomato juice (46 oz.)
-
1 can tomato soup
-
1 medium onion, cut into quarters (separate pieces)
-
1/4 cup sugar
-
1 1/2 tablespoons butter
-
1 teaspoon onion salt
-
1 teaspoon garlic salt
-
1/2 teaspoon salt