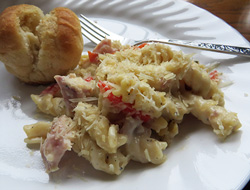 Directions
Cook the rotini and drain.
Combine the rotini with the remaining ingredients except for the Parmesan cheese.
Pour into a greased 9 x 13 baking dish and spread out evenly.
Bake in an oven preheated to 350° F. for 30 minutes.
Remove from the oven and sprinkle with the Parmesan cheese. Serve immediately.
Prep Time: 25 minutes
Cook Time: 30 minutes
Container: 9 x 13 baking dish
Servings: 8


Ingredients
-
16 ounces rotini
-
2 jars Alfredo sauce, 16 oz. jars
-
1 cup milk
-
2 cups shredded Mozzarella cheese
-
2 cups cubed ham
-
1/2 red bell pepper, sliced into small strips
-
2 teaspoons Italian seasoning
-
1/4 teaspoon pepper
-
1/2 cup grated Parmesan cheese